Kamna, Sebastian, Brigid and Alice of the Road to Refuge Communications team went and saw Chasing Asylum, a documentary by Eva Orner, last night at Cinema Nova.
A review in the Herald Sun recently described Chasing Asylum like this:
In Chasing Asylum, we have one of the most important documentaries ever made in this country, addressing one of the most important issues to ever face this country.
The Communications team were all shaken, stirred, moved and awoken by the documentary and in the below roundtable share their thoughts on the documentary, and what they think should happen next.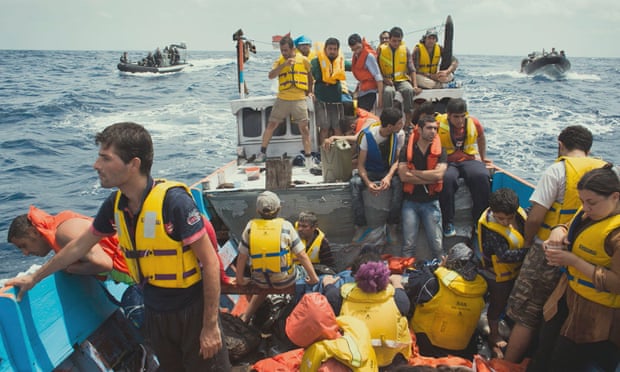 Alice:  Even watching the film with a group of other Road To Refuge volunteers, who were all pretty familiar with many of the issues facing refugees and people seeking asylum, watching Chasing Asylum felt like I was re-learning the facts all over again, with a renewed sense of urgency.
The wide breadth of people interviewed by Eva Orner gives insight into the huge scope and diversity of people affected by Australia's policies – the thousands of people who are currently in or have been in detention, the people stranded in countries like Indonesia unable to work or seek medical attention, the families separated all over the world.
I was particularly distressed by the witnessed horrors listed off by people who had spent time working in detention centres, and even more disturbed by the corruption in the running of these government facilities, in enabling ongoing human rights abuse.
Sebastian: Shame is the only word that comes to mind after watching Eva Orner's exposé into the inhumane treatment of people seeking asylum currently in offshore detention on Manus Island and Nauru.
Shame that our policies are geared towards deterrence at a horrific human toll to people in need. Shame that everyday broken people in detention are driven to self harm. Shame that successive governments have knowingly maintained and supported these conditions behind a galling facade of pseudo-humanitarianism. And shame that this footage had to be filmed in secret and that simply disclosing what happens within the detention centers is now punishable by up to 2 years in jail under the Border Protection Act 2015.
As someone engaged in this space, watching the film reminded me that everyday our government is torturing innocent people including children in our name and the lack of sharing of information, stories and the human cost of all of this is something that needs to be addressed.
Chasing Asylum is a must watch for anyone who cares, doesn't care or doesn't know about what your life is like if you are one of the unlucky ones whose lives is at the mercy of Australia's refugee polices.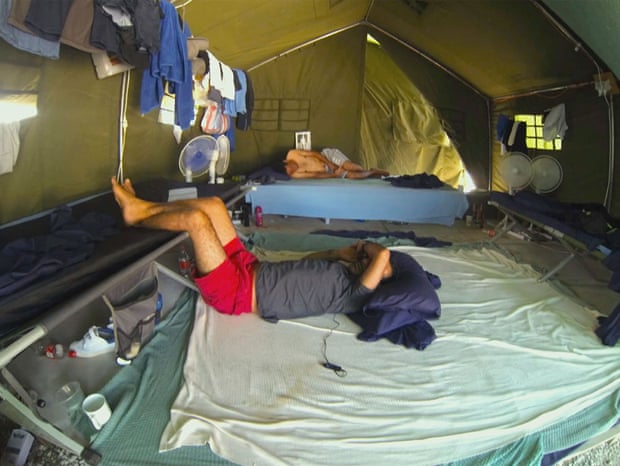 Kamna: Having met and spoken to people who have faced the torturous, cruel and inhumane experience of being a person seeking asylum in Australia, I've often thought what is needed to translate these complex and heartbreaking yet simple stories of suffering to people in the Australian public caring and effecting change.
Watching Chasing Asylum last night through anguish and tears, I came to the realisation that a film like this might be it.
The wide ranging impact of how Australia chooses to treat people who make life threatening journeys across seas  to seek safety but only to end up living in insecurity and danger is explored comprehensively in Eva Orner's film – in detention at Nauru and Manus Island, in limbo in Indonesia, by families who remain in countries of danger and learn of their loved ones' demise in detention under Australian care and through Australians who work at detention centres.
But the message, stories and experiences are simple – with Eva Orner doing little except some brilliant film making and editing to bring this home.
How Australian governments have chosen to treat vulnerable people seeking asylum has cost the lives, futures and hopes of adults and children, and the fact that we have this on our hands is shameful and must stop.
Brigid: We're all pretty familiar with the bleak, heartbreaking reality of Australia's people seeking asylum and refugee policy. Offshore detention centres that are operating like prisons are somewhat staffed by untrained and unprepared workers, bouncers, security guards and military personnel. I went into Chasing Asylum knowing a bit about Nauru and Manus Island processing centres. Also doing social media for Road to Refuge means I get daily news alerts and read a fair bit about Australia's offshore detention policies.
But watching this film was a real reminder that you can read about an issue all day and night and still not comprehend  how bleak the reality is. I want to say that I walked away from the film feeling hopeful but really I was just left with a sense of urgency about how much and how quickly these policies need to change. I am definitely going to be doing more research in to this issue, getting friends and family to see the film and educating myself around how my vote will play in to these policies at the July 2nd election.
Chasing Asylum is screening at cinemas across Australia. Information about locations and times are found here. We encourage you all to see this film, with a friend, family member, colleague or relative stranger and share the message.